Gir Cow Farming
The Gir cow is a popular breed of cow in India. The Gir cow breed was first found in the Gir forest of Kathiawad and Bhavnagar. Also, they were seen in Rajkot, Junagadh & Amreli District of Gujarat India. This breed of gir cow is known by different names all over India. In Gujarat, it is called Bhodali, Surti, Kathiwari, Gujarati, Sorthi, and Desan.
The average production of Gir cow's milk is 10 litres per day after the calf is born. The Gir Indian cow breed is also popular in other countries such as Brazil and North America, Australia, and New Zealand. Gir cattle were used in the development of the Brahman breed of cattle in North America.
This breed of cow has also been used to improve many of the indigenous breeds of India.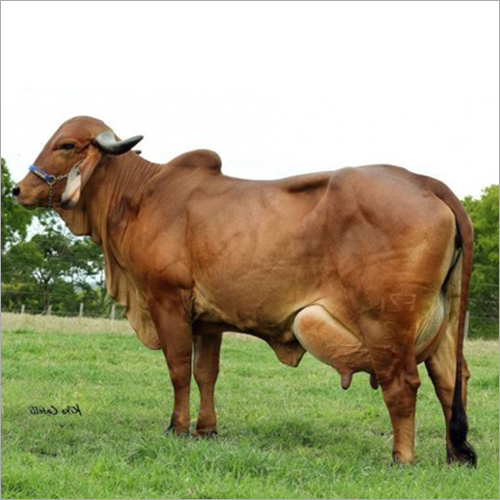 In general, this breed of cow has become very popular over the last decade as it produces pure A2 milk. A2 milk is in great demand in the metropolises of India. Milk contains beta-casein A2. And it is a healthier option than regular milk.
In India, this breed has the capability to adapt to any type of environment. The gir cow always gives dairy farmers in India a fast and maximum yield. Many of Gir's cow farms make very good profits from milk and manure.
Manure and urine are also important by-products of the dairy industry. It is used to make organic fertilizers and pesticides.
The interesting thing is that Brazil currently has more young cows than India. There are approximately 5 million gir cows in Brazil. The Gir cow is known as Bos Indicus, in Brazil and South America.
Physical Characteristics of Gir Cow
| | |
| --- | --- |
| Breed Name | Gir |
| Origin | Junagadh, Bhavnagar, Rajkot, Amreli |
| Normal Height of Cow | 4 to 4.3 ft |
| Normal Height of Bull | 4.3 to 4.6 ft |
| Udder Size of Cow | Large |
| Coat Color | Red, Red with white spot, Brown, Brown with white spot. |
| Purpose Of Breed | Milk Purpose |
| Size Category | Large Size Breed |
| Weight of Mature Cow (Average) | 380 to 400 kg |
| Weight Of Mature Bull (Average) | 540 to 560 kg |
| Age At First calving | 3 to 3.5 years |
| Average Birth Weight of calve | 18 to 20 kg |
| Lactation Cycle or Milk cycle | 300 Days |
| Dry Period | 60 to 70 Days |
| Gestation Length | 9.5 months |
| Milk yield Capacity in one lactation | 2800 litres |
| The Life span of Gir Cow | 20 Years |
Mustard Seeds : It's Benefits to Humans.
Characteristics of Gir cow
The gir cow is best known around the world for its A2 milk. There is a great demand for Gir Bull semen in several countries, which also want to produce quality milk.
Gir cow is a good mother and the behaviour of the cow is very docile and calm. These cows are very adorable.
The Gir Bull is mainly used for shooting in agrofarm or other heavy-duty work. Since the height of the bull is good, the legs are strengthened and can pull as much as the weight.
The gir cow is the most suitable breed for commercial dairy farming. This breed has the ability to adapt to any region of India.
Cultured ghee made from cow's milk by Gir is very expensive. People believe that it has medicinal properties and this milk from cattle is very beneficial for the brain growth of children.
Benefits of doing Gir cow farming
Add more value as the breed is considered the best dairy breed in the country.
Produces higher quality milk in greater quantity compared to other breeds. There is also beta A2 casein protein in milk.
The breed is highly adaptable and can adapt to many habitat conditions.
Livestock Gir cows do not require a large maintenance structure.
Gir cows have a low mortality rate and their average life expectancy is around 12-15 years.
These cows have a higher fertility rate and produce an average of 10 calves in their lifetime.
Resistant to many diseases.
The value of milk is high and the cows are very adaptable to automatic milking.
For breeding this breed, the most natural mating technique is preferred over artificial insemination.
How much milk does gir cow produce?
The Gir cow's milk production peaks from 0 to 70 days after the birth of a calf. After that, milk production decreases slightly from week to week. In the first 2 months after the calf is born, milk production is around 10-15 liters. The normal lactation cycle or milk production cycle of a Gir cow is 300 days and can be 325 days. The normal milk production of Gir cattle in lactation is 2800 liters. Milk production depends entirely on the type of feed you are feeding your cow and how much dry matter is absorbed in the cows' feed. If you offer quality feed, the cow produces quality milk.
The average fat percentage in Gir's cow's milk is 4.5%, which is a pretty good breed of special-purpose dairy cattle. The highest milk production of Gir cattle is 3000 liters in one lactation.
Basic housing requirements for Gir cow
For better milk production and reproduction, housing plays a very important role in the business purpose of the Gir cattle farm. The house should be both a shelter and an open meadow. The open meadow allows the cows to run out. The open paddock should be twice that of the animal shelter or cow barn.
The house should be well ventilated to allow air circulation or to remove rumination gases and manure.
The living bay in the house should be divided into cows, heifers, bulls, and calves.
There should be no overcrowding in the house.
The feeder and drinker must match the size or age of the cows.
Since 80% of the water is in the milk, the availability of water for large milk production must always be before the cows.
Sprinkle limestone dust weekly to kill bacteria in the house.
Caring and Management of the cattle
For a fact, Gir cattle have less mortality and morbidity, but protection against some important diseases is important for commercial dairy production. It is a popular saying that prevention is better than cure. So, the minimum age for vaccination is 3 months.
You should follow the India Vaccination Program Protocol
Keep animal health records and remove the physically weak animals from home as they will affect others.
Internal deworming should be done before or after monsoons.
The sick animal must be quickly transferred to a quarantine house.
Antibiotics and injections must always be available on the farm. Illnesses such as pneumonia and diarrhoea are common and are treated with antibiotics.
Feeding management of Gir cattle
The food itself covers up to 50 percent of the total costs of agriculture. In addition to outdoor grazing, which is necessary to reduce feed costs, gir cows should be fed jowar, bajrastraw, dry forage, cottonseed cake, soy hulls, jaggery, etc. The cows can also be fed vegetables such as carrots, drumsticks, and beets. Overfeeding should be avoided and the correct eating routine should be followed. The feed should be stored in a dry place to avoid contamination and the feed should be provided in the form of a medium-sized powder. Diet should be based on age and condition. An adequate amount of water should also be provided with the feed.
Yield
This breed of cattle produces an average of 1,590 kilos of milk per lactation. On average, these cows produce 1,600 kilos of milk per lactation when they give birth for the first time. In adult cows, it increases up to 1,800 kilos of milk per lactation. The selling price of a litre of milk is between Rs 50-70 and is comparatively higher compared to other breeds. Milk is healthier and in greater demand in the market due to the presence of casein and whey protein. The amount of fat is also between 4.7 and 5 percent.
Price of gir cow and profit from gir cow
The price of the gir cow depends on the amount of milk she gives after giving birth. The higher the milk the price of the cow will be higher. The price ranges from Rs 50,000 to Rs 85,000 per cow with her calf. This cow is priced lower than Buffalo but milk production is higher than Buffalo.
Average milk production per cow per day is 10 L (4 cows equal 40 L)
The sale price per liter of milk is ₹ 27
The price of 40 L of milk per day is ₹ 1,080
The Total income for 1 month is ₹ 32,400
Annual income is 3.88 .800
The annual surplus corresponds to 1.48,800